The Pest: Mud Daubers . . .
Mud daubers are long and slender, usually black in color, and may have pale markings or a metallic luster.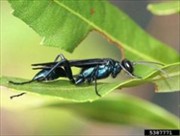 The nest: Mud daubers are solitary wasps and do not live in colonies. Females construct nests of mud. Many short mud tubes, usually about 1 inch long, are constructed side by side. They frequently build nests under eaves, porch ceilings, in garages and sheds, barns, protected building walls and attics.
The threat:
Mud daubers are considered beneficial insects because they control spiders. However, if their nest is located near human activity, control is warranted.
If you're concerned that you have mud daubers in your home or place of business, give Dave a call at 1-800-400-6009.
Dave's Pest Control
1-800-400-6009
A Central Massachusetts Extermination and Pest Control Company Worcester County Pest and Rodent Exterminators
www.davespestcontrol.net
The
above information
was provided by
Missy Henriksen
, Vice President of Public Affairs, NPMA Executive Director, Professional Pest Management Alliance.
Reference:
www.pestworld.org